A German Chancellor on Monday condemned statements by the Turkish president in which he accused Germany of "Nazi practices" days after a local authority vetoed the intervention of a Turkish minister at a rally.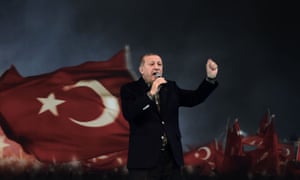 "Your practices are not different from the Nazi practices of the past," he said
According to Peter Altmaier, Recep Tayyip Erdogan's words are "totally unacceptable."
"You can not overcome Germany in matters of rule of law, tolerance and freedom," the minister told German television broadcaster ARD.
The government of Angela Merkel was in contact with the Turk and announced that "we will make sure that the importance of what happened in the last days is recognized and understood also in Ankara."
"The German government deplores the fact that freedom of speech and freedom of the press are currently limited in Turkey to an unacceptable degree," Steffen Seibert said.
Diplomatic tensions between the two nations grew as a result of Turkey's plans to hold rallies with government ministers in Germany in support of the upcoming constitutional referendum seeking to give Erdogan new powers.