We're all familiar with the Breathalyzer, the brand name for a roadside device that measures a suspected drunken driver's blood-alcohol level. It has been in use for decades. Now there's a so-called "textalyzer" device to help the authorities determine whether someone involved in a motor vehicle accident was unlawfully driving while distracted.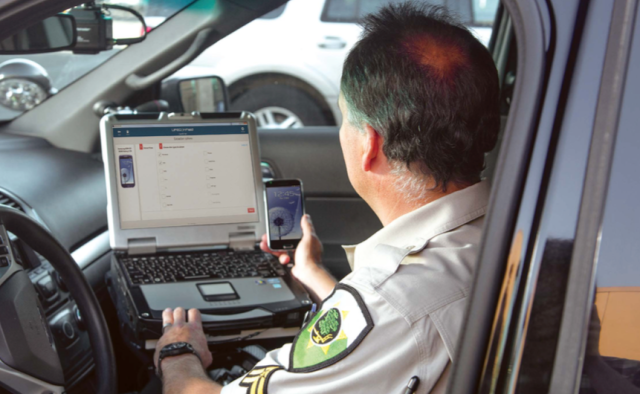 PHOTO Cellebrite
The roadside technology is being developed by Cellebrite, the Israeli firm that many believe assistedthe Federal Bureau of Investigation in cracking the iPhone at the center of a heated decryption battle with Apple.
Under the first-of-its-kind legislation proposed in New York, drivers involved in accidents would have to submit their phone to roadside testing from a textalyzer to determine whether the driver was using a mobile phone ahead of a crash. In a bid to get around the Fourth Amendment right to privacy, the textalyzer allegedly would keep conversations, contacts, numbers, photos, and application data private. It will solely say whether the phone was in use prior to a motor-vehicle mishap. Further analysis, which might require a warrant, could be necessary to determine whether such usage was via hands-free dashboard technology and to confirm the original finding.
The legislation was prompted by intense lobbying from the group Distracted Operators Risk Casualties (DORCs). The son of its co-founder, Ben Lieberman, was killed in 2011 by a distracted driver in New York. The proposed law has been dubbed "Evan's Law" in memory of 19-year-old Evan Lieberman.
"When people were held accountable for drunk driving, that's when positive change occurred," Lieberman said in a press release. "It's time to recognize that distracted driving is a similar impairment, and should be dealt with in a similar fashion. This is a way to address people who are causing damage."
Cellebrite already has roadside devices to scrape the contents of a phone, so this technology would just dial it back a bit. If the legislation passes, Cellebrite would have to bid on the project, as would other tech firms.
SHARE THIS ARTICLE…